Yields: 10 | Prep Time: 1Night ~ Cooking Time: 10Min | Difficulty Level: Medium
Waking up and having these brioches for breakfast makes your day starts in the right way! They are very special thanks to an ingredient which makes them super soft: the condensed milk. Have you ever tried it in your dough?! You can stuff these brioches with a good cream hazelnuts or jam, why not? Let's see how to achieve them.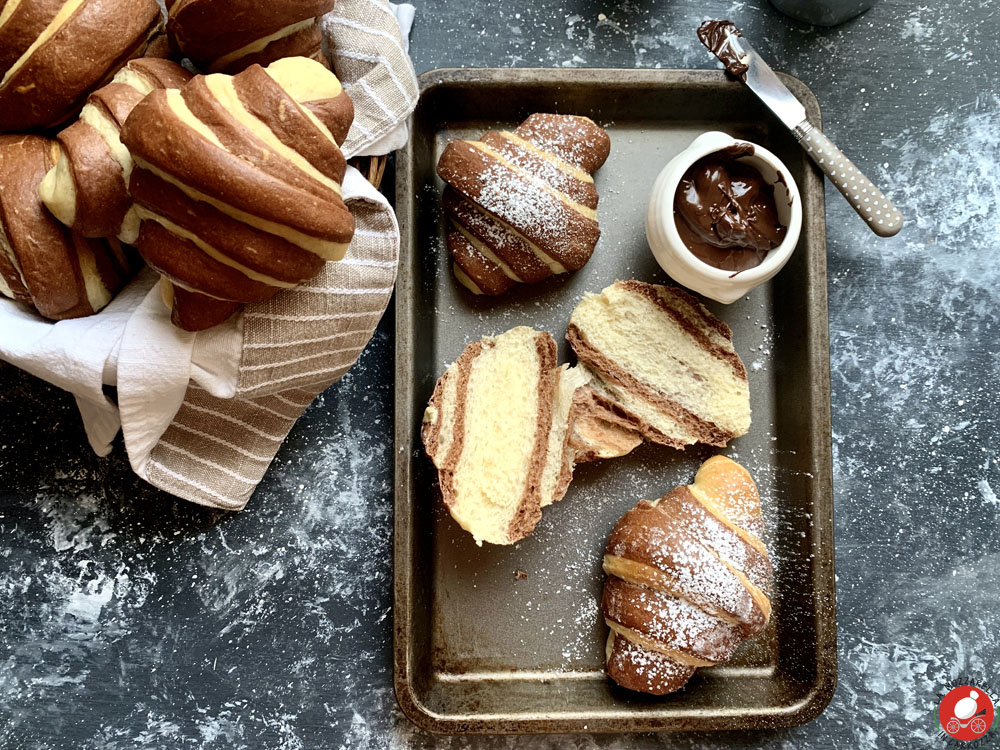 - Mix the flours with the yeast. Pour in the milk, the condensed milk and the sugar, stir with a spoon. Add the beaten egg and knead to incorporate it. At the end, add the softened butter and keep kneading until the dough is smooth. (If sticky, let the dough chill for about 15 min before kneading again).

- Cut the dough into two halves. Mix the cocoa powder with 2 Tbs of milk and create a creamy mixture. Add it into one of the two halves and knead until incorporated. Cover the two doughs and let rise overnight.

- Next morning, roll the clear dough out on a floured working surface and shape into a rectangle. Do the same with the chocolate dough. Place the chocolate rectangle over the clear one, pressing the rolling pin to join them.

- use a knife to cut ten triangles, then start to roll each triangle and shape into a brioche. Arrange on 2 baking trays lined with parchment paper and let rise until doubled in size.

- Once ready, brush the brioches with some milk and bake at 180 degrees for about 10 min.