Yields: 16 Doughnuts | Cooking Time: 24h Maturation - 15Min oven Baked | Difficulty Level: Medium
What does happiness taste like? I think it has a simple and genuine flavor and these delicious doughnuts are very similar to all that. This is because when we ate them at breakfast we suddenly start to smile, with our lips covered with icing sugar. I tell you, they're amazing!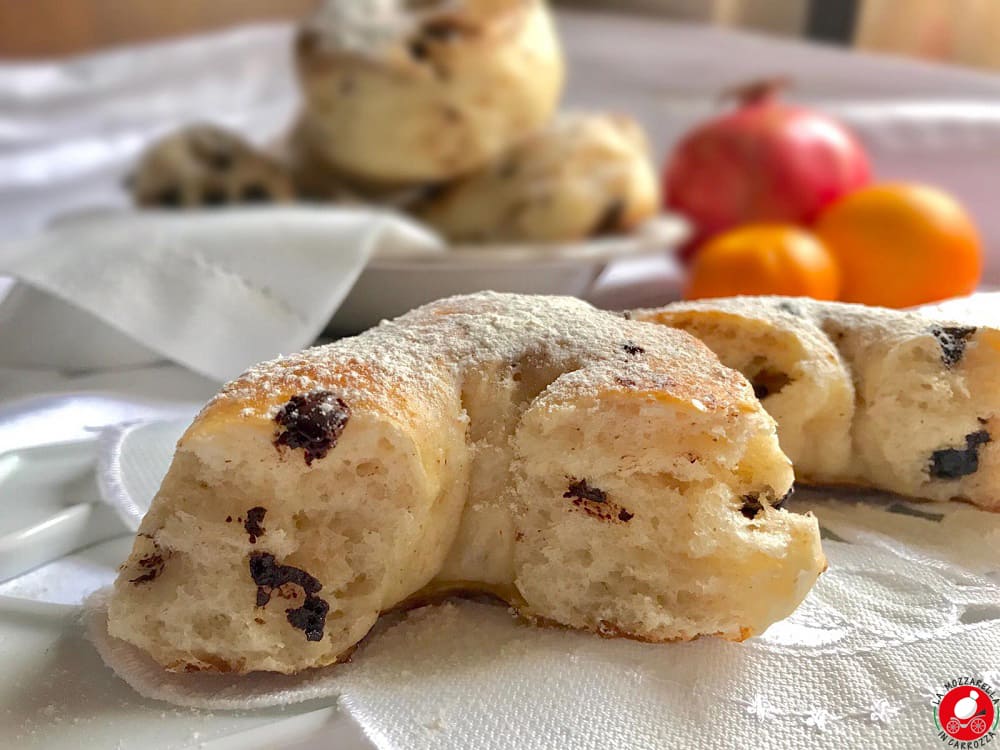 - Put the flours, the yeast and the sugar in a large bowl.

- Gradually, Add the milk and the cream, using a wooden tablespoon to stir.

- Beat the egg and pour it into the batter. Stir until combined, never mind if your dough is sticky, don't add flour.

- Cover the bowl and let the dough rest for about 30 min. Then, start to knead, taking the outside edges to the center. This passage will help your dough to relax and be more springy. Repeat it until ready.

- Place into the fridge for about 24 h.

- The next day, take the bowl out of the fridge 2 h and bring the dough at room temperature, than add the chocolate chips.

- Roll the dough and with a round-shape cutter create the doughnuts.

- Cover and leave them to rise again until they have doubled in size (it will take 30 min€), than use a mixture of beaten yolk and milk to coat the top of the doughnuts.

- Bake at 200 degrees for 15-20 min, till they will browned.

- Warm them and sprinkle with icing sugar.