Yields: 6/8 | Cooking Time: 30/35Min | Difficulty Level: Facile
Christmas is coming and preparations is what I love the most. Everyone in my family decides to cook something, usually I make starters. This one is perfect for Christmas, so impressive and convivial: once placed the puff pastry tree on the table each guest will simply use his hands to pick its own "branch" up and eat it!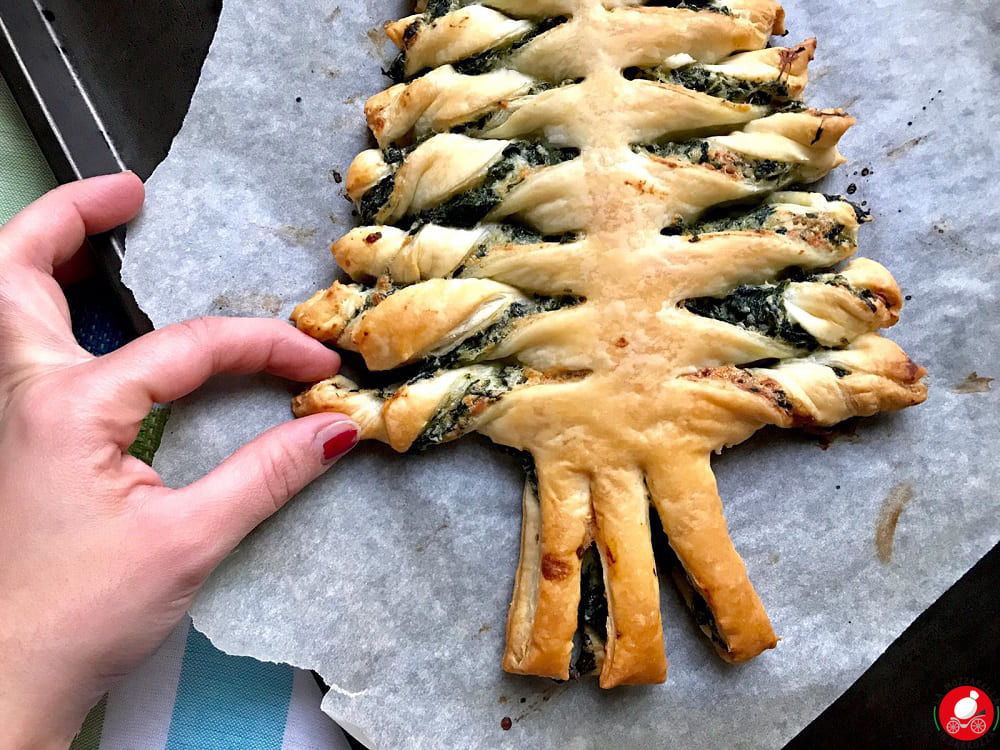 - In a large pan, stir-fry Spinach with some extra virgin olive oil and a pinch of salt. Once ready, cool and chop them.

- Pour in the cheese and stir until the mixture will combine.

- Meanwhile roll the first puff pastry disk and use a knife to create a tree: draw a cone (foliage) with a little rectangle (trunk) below. Remove the excess pastry and spread the cheese-Spinach filling all over the tree. Be careful to leave the edges free.

- Roll the second disk of puff pastry and gently lean it on the first one, so that the stuffing will be covered. Use your finger to press along the edges.

- Start from the top of the tree and Use a knife to "draw" two vertical lines that will be the trunk. Following these lines Cut pastry strip horizontally to form the branches, leaving the middle intact.

- Beginning the base of the tree, twist the branches.

- Gently place the pastry tree on a tray lined with parchment paper and bake for about 30-35 min at 200 degrees.