Yields: 18 | Cooking Time: 1h | Difficulty Level: Easy
These croquettes are delicious, easy and very quickly. I make them very often because children really do love them! If you make this recipe for your children, cook the croquettes into the oven and they will be healthier and lighter!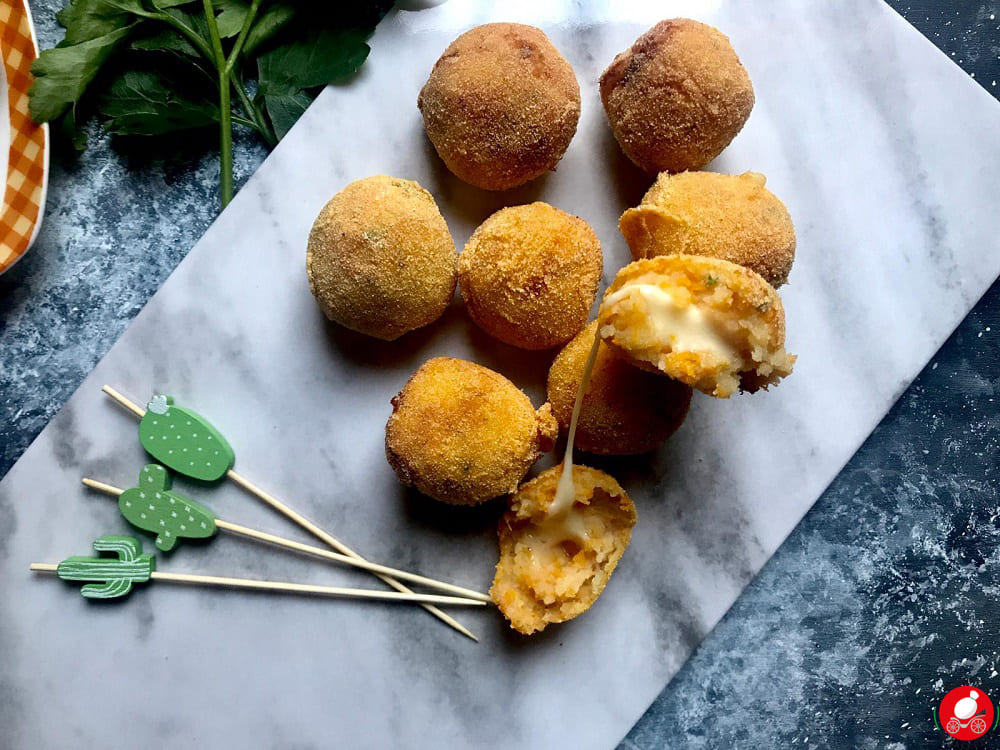 - Arrange pumpkin slices on a baking tray lined with parchment paper. Add some rosemary or sage and bake at 180 degrees for about 20 min.

- Meanwhile bring to a boil the potatoes with all their skin. Cook for about 40 min, until soft.

- Peel the potatoes and smash them together with the pumpkin using a potato masher.

- Add the yolk, the grated cheese, the Parsley and season with salt and pepper. Combine well together.

- Shape the mixture into little balls and place a piece of cheese inside.

- Roll the balls into the egg white, than into the corn flour. Repeat this passage for a major crunchiness.

- Heat the oil (I used peanut vegetable oil) and when ready deep fry the croquettes until golden brown. If you prefer, bake them at 200 degrees for 10 min.

NB if you decide to fry the croquettes and you want to prepare them in advance don't place them in the refrigerator because they will absorb too much humidity. Usually, I fry my croquettes as soon as they are ready. You can also freeze them and store in your freezer. When you want to cook croquettes, add them to medium heated deep oil pan without thawing and fry until crunchy and golden brown.